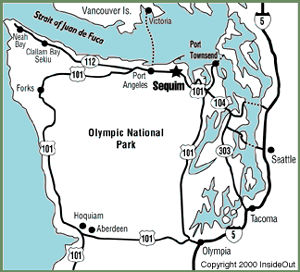 Vacation Boarding

Planning a vacation? Wish you could take your horse along? You can! Miles of scenic backcountry trails await you with access from and near Nodaway Farm. Your horse will be well cared for if you should decide to take a day trip to Victoria, BC or the enchanting Hoh Rain Forest, breathtaking Hurricane Ridge, or romantic historic Lake Crescent Lodge.

Now that your horse is taken care of, what about you? We are planning a future "Bed & Barn" here at Nodaway Farm...but in the mean time, there are several highly-rated lodges, Bed & Breakfasts and motels as close as a mile away from Nodaway Farm, for your lodging pleasure.

Perhaps you are vacationing elsewhere and need someone to care for your horse while you are gone. A day, a week, a year in the Peace Corps? We will care for your horse and all of its veterinary and farrier needs while you are away exploring the world.

For more information on our beautiful area, please visit the helpful links below.