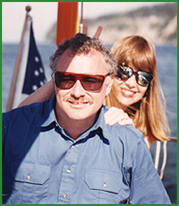 About the Owners

Bob and Denison are both graduate Foresters from Oregon State University, with M.S. degrees in Civil Engineering and Forest Resources from the University of Washington, respectively.

Bob moved to Alaska to climb Mt. McKinley (Denali). Denison moved to Alaska to conduct fire ecology research in Denali National Park. As careers took them to Anchorage, they met, fell in love, and married. The declining health of their parents brought Bob and Denison back to the Pacific Northwest, to Wilsonville, Oregon in 1988. Bob became the Director for Environmental Services for METRO in Portland, and Denison was Regional Interpretive Partnerships Leader for the U.S. Forest Service in Portland, District Management Team Forester in Carson, Washington, and Director of the U.S. Forest Service Regional Columbia Ecosystem Center in Vancouver, Washington.

Bob accepted a position as Director of Community Development for Clallam County in 1996. The Deputy Regional Forester selected Denison as the next District Ranger for Quilcene on the Olympic National Forest. Pending placement into her new assignment, Denison turned to her life-long horse passion and began Nodaway Farm's retirement and lay-up horse care program. Our other passion - Nodaway Farm is also working towards achieving NARHA (North American Riding for the Handicapped Association) certification as a riding center for people with disabilities.

Horsemanship Experience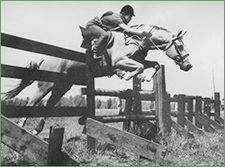 Denison began riding lessons at age 5 from the grand Scots horseman, Alick Wilson, in Portland, Oregon. She then went on to train with Weylin Meyer, competing in junior jumper, hunter trials and 3-day events throughout the Pacific Northwest and Canada. Clinicians she has trained under include Gene Lewis, Kevin Freeman, and Sue McMullen. As an adult amateur, she continues to train with Lee Jorgensen of Cornerstone Farm.

Her knowledge and compassion in caring for older horses came from sharing many decades together with her show/event horse, "Monty" aka "Egg Nog". Monty lived well into his 40's. Denison credits Weylin for teaching her most of what she knows about horse care and management. Weylin instilled a value in all her students, that the horse comes first, and to put yourself in the horse's mind and place. The key to horse care is preventative management - do the things that will prevent illness, lameness, disease and anxiety.